So a jokester makes this GIF of the president striking a golf ball, which then hits Hilary Clinton in the back (oh, the wonders of Photoshop) and causes her to fall down.
https://twitter.com/Fuctupmind/status/908163011793358848/photo/1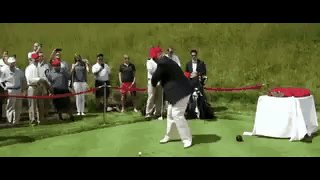 The president sees it in his Twitter feed and retweets. He must have found it hilarious.
But in his weird Trumpian way, he condemns himself at the same time.
As an avid golfer, Trump knows that such an errant golf shot that has left the golf course to strike a person at an airport who is boarding a plane is OUT OF BOUNDS.
Let the irony sink in.
The jokester forgot to edit in a speech bubble with the president shouting "Fore!" to warn persons to duck.
Yes, so what seems to be a ha-ha for Trump is actually a condemnation of his disregard for other people to the point of showing him callous to the danger he has put them into.
Why in the world did he think this was worthy of a retweet?
Donald Trump, you are out-of-bounds, sir. An honorable golfer would call a penalty on himself.
Are you game?